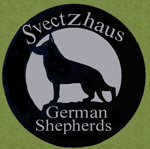 Occasionally a German Shepherd puppy will need some help in getting his/her ears to stand up.
We suggest waiting to 'glue' till the pups are 4 1/2 months old. We like to hear from our puppy owners if they have any question about when the time is right to glue ears. If the pups ears are moving around, up and down, we may advise to wait till the puppy is 5 months to glue. Pups ears do go up and down while they are teething.
The likelihood is usually that the pups ears would go up anyway on their own before Puppy is 7 months old but we would rather be sure, not wait, and not take any chances, because it may then be too late! If you wait until the puppy is 6 months old and they did need help, there may not be enough time left to get them up! The general consensus is that if the puppies ears are not up by the time the pup are 7 months old they will not go up at all. In rare instances though it is still possible to get pups ears up till they are 1 year old.
I have used Torbot bonding cement with wonderful results. (Skin Bond
is no longer available).
Torbot Bonding Cement #TT410 now works just as well.