We do have a waiting list
I suggest you call and get your authorization.
209-321-2820
I am retired . I get to play and socialize our pups from day one. My husband, GSD girls, and Valiant are my family. My daughter is in the Navy and my son has 3 kids. Yep I am a happy grandma.
I breed them when we have a full waiting list once a year. My GSD girls are AKC registered and obedience titled. They have the looks and the brains. They are hip x-rayed and DNA verified.
Please call me if I can be of further help and assistance
Now Accepting Waiting list for Puppies
Call to be approved today!
209-321-2820
Thank you
Grams Lee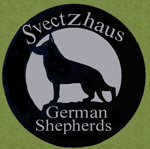 Svectzhaus German Shepherds