Svectzhaus German Shepherds
We are located in Northern California .
If you would like to be placed on the list for a puppy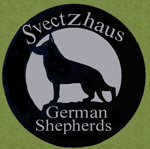 (See Secure (buy now) Link Below).
If the list is full we will let you know via phone or e-mail. You have the right to either wait for the next litter list or next mating.Your deposit holds your position in line for a pup. You will decide at that time if you want a male/female and or what color preference. ex red/black, sable, or black
All of our dogs and puppy's are AKC American Kennel Club registered. Our lineage is also hip certified (A stamp) in Europe.
Our dogs are not just family pets but have proven their disposition in AKC (American Kennel Club) obedience competitions.
They have the looks. brains, drive, and the heart to be great companions in a work environment or family fun.
We socialize our pups full time in our home (not a kennel) from the moment they are born. (Kids,Grandkids, city and country living.)

We offer training classes and support.( I am a certified AKC evaluator.)

Pups are vet checked.

We offer pups at $1500. + Shipping (if shipping applies) with limited AKC registration. No puppy's are sold as breeding dogs.
All pups will carry the name "Svectzhaus" in the AKC registered name and start with the designated lettering or all guarantee's are considered invalid (ex.AA, AB ect.) AA-Lady Svectzhaus is allowed.

A non-refundable deposit in the amount of $300.00 is required to reserve your puppy.

Pup & shipping charges must be paid for in full, with a postal money order/cashier's check or credit card no later than 2 weeks prior to shipping.

Shipping charges: $350.00 which includes airfair within the continental United States, a size 200 crate, and health certificate. (If pup has outgrown the 200 crate, an additional charge will be added for the larger crate size.)
our e-mail address is GSDcoats@pixymusic.com
To make a approved deposit for your new puppy click the link above.
For your safety: if you are having difficulty ( this session contains invalid data) please "refresh" your web browser screen and proceed with your secure payment.
Now Accepting Waiting list for Puppies
Call to be approved today!
209-321-2820
Thank you
Family Svectz